Professional Graphs!
Grapher 9
is the ultimate graphing package available! Discover how this easy-to-use, powerful, and dynamic program can help you create superior and professional graphs! With
Grapher
, it has never been easier to WOW your audience with the most impressive graphs, every time!
Grapher will help you present your information in a clear and precise manner. Choose from 54 different graph types to find the graph which best represents your data. Add text, draw objects, customize colors, or insert your company logo to create the perfect graph. Once you have finished installing Grapher 8, you will be creating fabulous and illustrative graphs within minutes!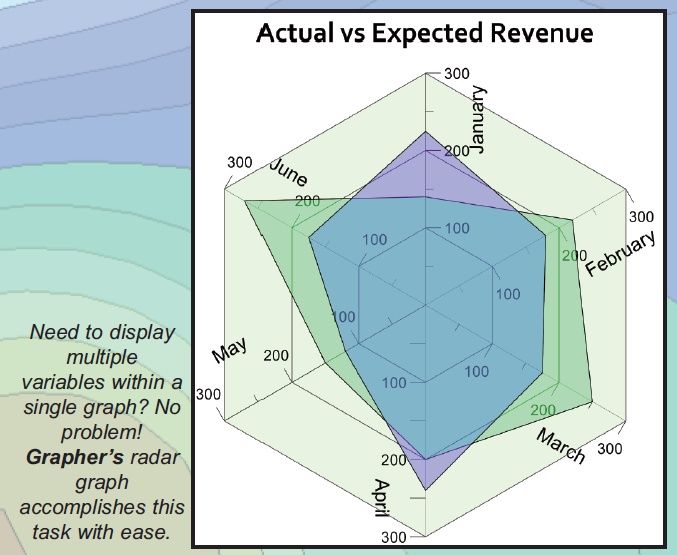 Powerful Graphing!
Grapher's
possibilities are limited only by your imagination! Customize your graphs so they look their best! Each of
Grapher's
54 graph types has a multitude of editing options to enhance its appearance. Change line colors and thicknesses, add gradient color fills, or add solid fills and adjust the opacity to see the information below.
Create informative graphs by adding error bars, fit curves, confidence intervals, titles, and legends. You can even add your own customizations to the defaults, so the default graph is truly yours! These are just some of the endless options Grapher offers to easily create the most colorful, descriptive, and understandable graphs—ready for publication!
Organize Your Data!
Never before has a program made it easier to access your data than Grapher. With a click of the mouse, open your data file in the Grapher worksheet for easy editing or create a graph directly from your data file.
Grapher supports several popular data formats, including 100% compatibility with Microsoft Excel, Microsoft SLK, and ASCII text file formats. In addition, Grapher imports from numerous databases, including Access, dBase, Paradox, and many more.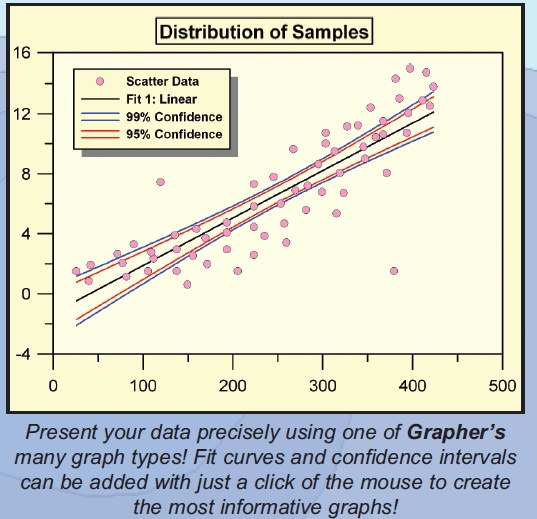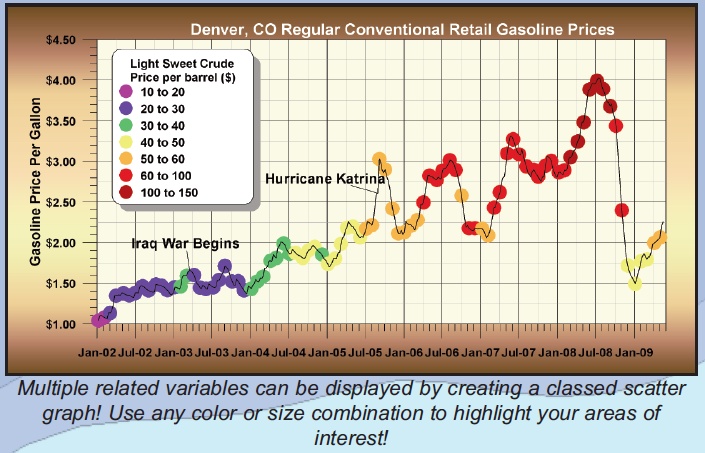 Work Smarter, Not Harder!
New to Grapher? Let the Graph Wizard be of service! This powerful feature provides step-by-step instructions to help you create the perfect graph. Add your own customizations to the Graph Wizard to create personalized graphs in seconds.
Grapher's Graph Wizard helps you work smarter, not harder! Need to create the same graph, over and over again? Grapher boasts a superior script recording feature which makes it easier than ever to accomplish this tedious task. As you create your graph, Grapher writes the entire script for you! Save time, money, and energy by using the same format for every graph, every time.
What's new in Version 9
* Grapher Goes International – Full Unicode Support
* 64-bit Installation
* Move Any Label
* Ultimate Data Compatibility
* Bar Chart Clipping
* Fit Curves and Confidence Plot Clipping
* Label All Plots
* Improved Axis Date/Time
* Enhanced Class Scatter Plot Legend
* Improved Axis Worksheet Labels
* Edit Individual Objects in a Combined Object

---