montaj Geophysics
The montaj Geophysics software extension provides a range of filters and statistical tools for working with large-volume geophysical data.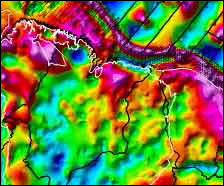 Spatial 1D Filters enable field geophysicists to process data by applying a variety of space domain filters (linear and non-linear).
The 1D FFT Filter enables you to apply a variety of Fourier domain filters to one-dimensional (line) potential field and other data.
A variety of geostatistical tools provide the ability for summary and advanced statistics, including histogram, scatter and triplot analysis, and the ability to subset data based on code or map group classification.
Use montaj Geophysics to:
Smooth data, with or without non-linear filtering, using spatial one dimensional filters
Apply convolution filters, including Difference, Fraser, Laplace, Low-pass, Band-pass, High-pass, and User-Defined
Enhance the shorter wavelength features in the data using one-dimensional Fast Fourier Filters (FFT). These include regional filters, upward/downward continuations and vertical and horizontal derivatives
Apply Lag Correction to a channel of data by shifting the start fiducial by a specified lag amount
Apply Heading Correction to data for a systematic shift (in the data) that is a function of the direction of travel for a survey line
Apply Magnetic base station correction to a magnetic channel
Perform profile-based processing for interpretation and modeling purposes
Perform multivariate analysis using histogram, scatter and triplot statistical analysis tools Select and subset data interactively from maps based on text codes, regions or map groups
Geophysics Maps
Bouguer anomaly onshore and offshore (bottom left), topography (bottom right) and 3-D Bouguer anomaly over topography (top).