Comprehensive 3D Workbench
Noddy is a comprehensive 3D workbench for modelling and visualisation of complex geological events and geophysical simulation of magnetic and gravity responses.

Visualise Results in 3D
Apply any sequence of folding, faulting and intrusion to an initial model and visualise the results in 3D. Modify any of the geological events to determine the impact on the final geological view. Simulate the magnetic and gravity responses.

Unravel Geological History
Compare your responses to geophysical surveys to help unravel a complex geological history.

---
Easy Geological Modelling

Your models are built from a sequence of geological events that include folding, faulting, unconformities, shear zones, dykes, plugs, homogeneous strains and tilts.
These events are applied sequentially to a layered stratigraphy to simulate possible earth processes that could explain current geological settings.
Properties assigned to the original layers are propagated through the model volume to provide a framework for simulation of the magnetic and gravity response of the subsurface.


Geological Visualisation

Noddy makes visualisation of complex structural models a simple and rewarding task. Build block models, voxel views, maps, sections, geological surfaces, boreholes, stereographic projections, topography and animations.
---
View a Demo of Noddy:


Geological Events

Sequential geological events are applied

to an initial stratigraphic sequence. The

events can be applied in any order to

construct a complex geological model.

Base stratigraphy

Folding

Faulting

Unconformity

Shear zone

Dyke intrusion

Plug intrusion

Strain

Tilt

Foliation

Lineation

Alteration

Import block model
Geophysical Modelling

The magnetic and gravity response of your geological model can be computed no matter how complex. This is achieved by summation of the individual contributions of each volume
element (voxel) in the 3D model. Generate synthetic airborne surveys along pre-determined flight paths or build images of the magnetic and gravity responses. Compute the first and second vertical derivatives of your potential fi eld models.

Three methods of magnetic and gravity computation are available in Noddy:

FFT spectral

Approximate convolution

Full convolution
Models can be computed for barometric, draped and borehole surveys with computation of the total field and X,Y, Z components.

Geophysical Visualisation

Visualise your computations as images and contour displays or export them for visualization in your mapping or image processing system. External information can be introduced into the event sequence as unconformity surfaces and block models.
You can use the borehole option to generate physical property and lithology models at intervals down the hole. Noddy also computes the fi eld response in a borehole.
Rock Properties

Each voxel has a series of associated properties that include, lithology, alteration, anisotropic magnetic susceptibility, remanence and density. Alteration events can modify the existing properties or replace existing values depending upon the alteration style.
Intrusive events can have a replacement halo that changes the magnetic properties surrounding the intrusion.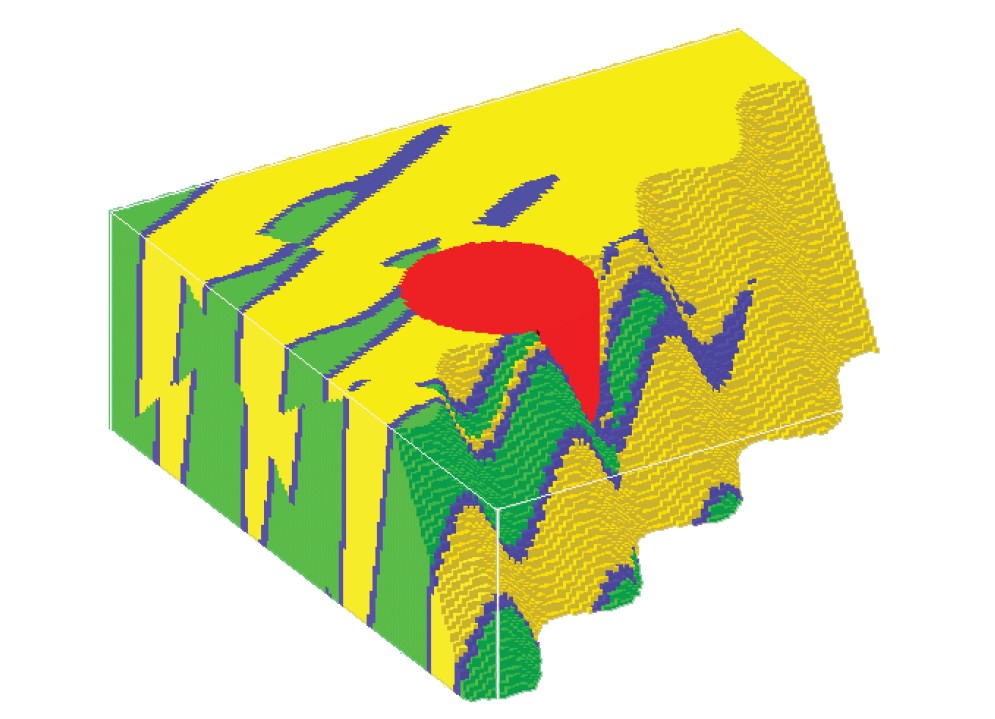 ---
Presentation

The diverse range of presentations

enable you to comprehend complex

geological events and gain unique

insights into structural processes. Not

only can you see a map view of the

geology, you can see a 3D block model

and the magnetic or gravity response.

3D block models

3D chair displays

3D voxel models

Geological maps

Dip and strike symbols

Contour maps

Geophysical images

Geophysical contours

Geophysical profi les

Topography maps

Cross-sections

Boreholes

Stereographic projections

3D topography

3D triangulated surfaces

Movie generation