X2IPI
Tool box for 2D DC and DC - IP measurements
Compatible with :

Res2dInv software (Geotomo Inc.)
SYSCAL® equipment (Iris Instruments)
Terrameter SAS4000/SAS1000 equipment (ABEM Instrument AB)
Sens2dInv software (Geotomographie)
IPI2win software (Moscow State University)
Overview of the X2IPI tool box
X2IPI allows to perform 5 main tasks with data of multielectrode measuruments:

To prepare and to modify protocols files [*.seq or *.org] files needed for multielectrode measurements with SYSCAL® or SAS4000/SAS1000 equipments

To prepare protocol file for the next types of array:
Pole-Dipole (forward and reverse)
Half Wenner
Wenner alpha
Wenner beta
Wenner-Schlumberger
Dipole-dipole
Modifying electrodes unit spacing
Removing a faulty electrode
Removing measurement lines
Preparing a "Roll along" [*.seq, *.up, *.dwn] files
Changing the numbers of the MULTINODE® used in a [*seq] file, i.e. the hard reference numbers of the electrodes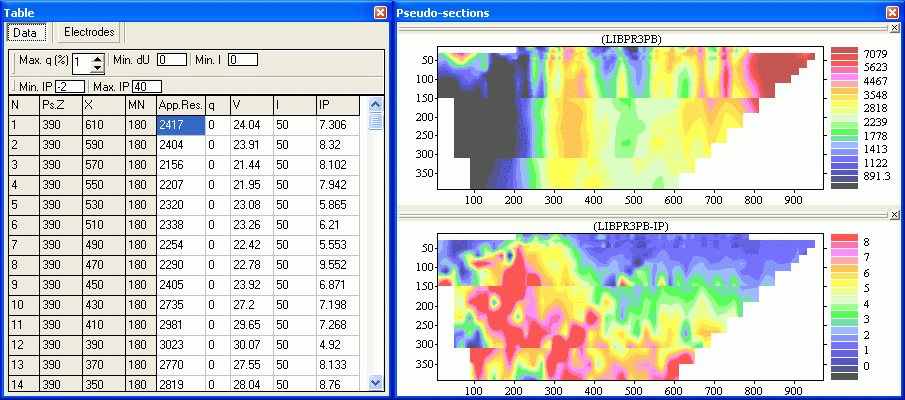 To work with field data files from SYSCAL® or SAS4000/SAS1000 equipments and in Res2dInv format:
visualization of data,
trim outlier measurements,
merge data files,
remove a faulty electrode,
input topography;
To remove "geological noise" linked to near-surface inhomogeneities;

To prepare input files with the convenient formats for interpretation softwares (including new general format for Res2dInv);

To work with results of 2D inversion by Res2dInv.

Median window
The median window allows to remove from the pseudosections the "P" and "C" effects linked
to close to surface inhomogeneities.